Chase Field
When the Arizona Diamondbacks were introduced as the newest member of Major League Baseball, it put in motion multiple plans including one by the Maricopa Board of Supervisors that triggered a piece of legislation to build a baseball only facility that would become home of the Diamondbacks when they began play in 1998.
The stadium would be built in Phoenix Arizona as part of an effort to revitalize the downtown area bringing in fans and tourists from all over the country. It became a crown jewel of the area and a cornerstone for other development that has subsequently occurred in the area.
Below you will find important dates and milestones that make up the history of Chase Field.
Located
in downtown Phoenix Arizona in the Legends District, the stadium was built to be the home of the Major League Baseball expansion Arizona Diamondbacks.
When it opened it was heralded as a state-of-the-art retractable roof stadium capable of having the roof open and close in just over 4 minutes.
With summer temperatures well over 110 degrees, Major League Baseball insisted on a stadium that could shield the players and fans from the intense heat.
On game days where the outside temperature is below 100 and the sun setting the game will typically be played with the roof open. In case of day games and temperatures over the century mark the roof will remain closed and air conditioning is used to cool off the playing surface and seating areas.
In this section you will find pertinent information about Chase Field
Stadium Facts & Figures
Name
Chase Field (September 23, 2005 - Present)
Previous Name(s)
Bank One Ballpark (March 31, 1998 - September 23, 2005)
Architect
Ellerbe Becket
Design Principal
Bill Johnson
Project Manager
John Wasson
Managing Contractor
Huber Hunt & Nichols
Ground Breaking
November 16, 1995
First Official Game
March 31, 1998
Construction Duration
28 Months
Construction Costs
$354 million
Physical Address
401 E. Jefferson St.
Phoenix, AZ 85004
Coordinates
33° 26' 43" N 112° 4' 1" W
Major Cross Streets
North: Jefferson Street
South: Lincoln Street
East: 7th Street
West: 4th Street
Capacity
48,633 (2011-present)
48,652 (2009-2010)
48,711 (2008)
49,033 (2002-2007)
48,500 (1998-2001)
Ownership & Operations
Owner
Maricopa County Stadium District
Operations
Select Artists Associates, LLC
Field Surface & Dimensions
Playing Surface
Bull's Eye Bermuda Natural Grass
Field Dimensions
LF: 330'
LCF: 376'
CF: 407'
RCF: 376'
RF: 335'
Outfield Wall Height
LF Corner: 8' 6" - 10' 0"
LF: 7' 6"
CF: 25'
RF: 7' 6"
RF Corner: 9' 6" - 8' 8"
Batters Eye
66' wide by 27' 6"
Backstop
62' wide by 31' high. Backstop is 57' from home plate
Concourse
The length of the main concourse is 3/8 of a mile
Depth
The playing surface is 25' below street level
Seating
The ballpark features 58 private luxury suites, 4,400 club seats, and approximately 20,000 upper level seats. More than 80 percent of the seats are inside the foul poles
Electronic Signage
Video Board
136-feet-by-46-feet high-definition LED video board installed in 2008. Eight times bigger than previous JumboTron
Capability
Capable of displaying two true high-definition 16:9 images side by side
Resolution
dbTV has 880 native lines of resolution and provides video in up to 4.4 trillion colors
LED Ribbon
1,119-feet long LED ribbon display on second deck facade installed in 2007 and is the largest in MLB
Lineup Board
High-definition D-backs and visitors lineup boards measuring 24-feet by 20-feet
Installation
Daktronics
Roof
Height
255-feet at highest point
185-feet at lowest point
Span
517-feet. When fully retracted the opening is almost 5.5 acres
Steel
9-million pounds of structural steel
Speed
Opens and closes in four and a half minutes with a pair of 200-horsepower motors
Technology
Operates with similar technology as draw bridges and overhead traveling cranes
Cabling
4 miles of cable strung through a pulley system
Segments
Opens from middle so the two segments of the roof can be opened or closed either in unison or independently
Music
The Arizona Diamondbacks commissioned special music to be played when the roof to Chase Field opens. It was written by Frank Boxberger and George Chadwick. The piece is simply titled "Roof Open 1998". The Diamondbacks changed the music in 1999 but after fans complained the team reverted back to the original piece which still plays to this day. It was available on a CD called "Sounds of B.O.B." that could be purchased at the Chase Field Team Shop but is now out of print
Cost to Open/Close
It costs approximately $2-$3 to open or close the roof
Roof Information
The Roof Hotline can be reached at 602.462.6262 for more information and roof status
Air Conditioning
Manufacturer
Northwinds Cooling Systems
Installation Date
2001
Timing
Roof remains open until 3 hours prior to game time. The park will cool to 78 degrees before game time
Size
8,000-ton cooling system — the equivalent of cooling 2,500 homes of 2,000 square feet — uses chilled water and is part of the system that serves more than 30 downtown buildings. The plant, a separate building, is just outside the ballpark
RAMTRUCKS.com Pool
Pool Deck
1,288 square feet
Pool Spa
460 square feet
Water Capacity
8,500 gallons of water
Distance
460 feet from home plate
Staff
Lifeguards are on duty at every game
Pool Shots
The first pool shot to hit the water (on the fly) was hit by Chicago Cubs first baseman Mark Grace on May 12, 1998
Going to Chase Field is a unique experience you will not find anywhere else. It's not just the retractible roof or the retro-design that brings back memories of stadiums in baseball's past. Chase Field also has several amenities that constantly remind you that the future can be seamlessly grafted into the past to make the present so special.
So sit back and let us walk you through some of the features and amenities that make this stadium so amazing.
Game Seven Grill
Game Seven Grill is now open on the Gila River Casinos Plaza at Chase Field. Taking the place of Slider's, this BBQ-style restaurant with a family-friendly environment will be open during D-backs home games beginning three hours before first pitch through approximately 1.5 hours after the final out.
With a complete overhaul that includes new kitchen equipment, draft beers system, furniture and championship décor, the 20,000 square-foot restaurant (formerly Sliders) can hold up to 300 patrons.
Memorabilia such as game-used jerseys, World Series programs, tickets, game balls and pennants will be on display from Game 7 of the 2001 World Series, in which the D-backs won the only championship in Phoenix's major professional sports history.
The classic "All American" BBQ menu at Game Seven Grill will include house smoked ribs, beef brisket, chicken, turkey and pork with three distinctly delicious sauce offerings.
The menu also includes a variety of unique items, including the "Hottest Wings in Baseball," made with Ghost Pepper (Bhut Jolokia), a chili pepper recognized by Guinness World Records as the hottest pepper in the world. Fans can sign a waiver, dig in and try to become the "King of the Wing" and take home a custom Game Seven Grill fire helmet.
The Tape Measure Shot Sandwich features the house smoked pulled pork, beef brisket and hickory smoked bacon stacked high on grilled toast with lettuce, beef steak tomato and barbecue aioli. The sandwich is served wrapped with a foot and a half tape measure.
Other offerings include Smoky Chicken Nachos, BBQ Brisket Skins, the "Snake Bite" BBQ Chicken Sandwich, St. Louis style BBQ Pork Spareribs, the Bowtie Cobb Salad, Warm Pretzel Bread and a complete kids menu. Desserts include the Rockslide Brownie Sundae, Warm Bavarian Apple Pie and Hand Dipped Ice Cream Cones.
Phoenix Children's Hospital Sandlot
The Phoenix Children's Hospital Sandlot is a family-focused destination that promotes a healthy and active lifestyle with a variety of fun and exciting activities for fans of all ages. Located on the Upper Concourse in left field (northwest corner past Section 332), the Phoenix Children's Hospital Sandlot features:
Futures Field - Kids can take Wiffle ball batting practice and run the bases on this miniature version of Chase Field, complete with a centerfield "scoreboard" and operating door panels.
Playground - The playground features two clubhouses, four slides, and a play area for kids of all ages.
Batting Cage - Swing away in this big league-style batting cage located behind Futures Field.
D-backs Kid's Club Headquarters - Kids (ages 15 and under) can join the D-backs Kid's Club presented by Raising Cane's and redeem prizes. Kids can also register for the No Chew Crew presented by Delta Dental of Arizona. Registration must be completed by parent or guardian (ages 18 and older).
Bobby Freeman's Stage - The D-backs musical mascot entertains fans from his new location overlooking Chase Field.
Legends Racers - The D-backs Legends Racers, presented by Jack in the Box, can be found in the Phoenix Children's Hospital Sandlot during the 7th Inning Stretch of every D-backs home game.
Please be aware that there are posted age and height restrictions for some Phoenix Children's Hospital Sandlot features. Use of the Phoenix Children's Hospital Sandlot area is subject to Chase Field policies, rules and regulations, as may be amended from time to time.
Coors Light Strike Zone
The Coors Light Strike Zone is an upscale club area located in right field on the main concourse level at Chase Field.
With no reserved seats, plenty of lounge and bar seating is available on a first-come basis to watch a D-backs game from one of the best views in the ballpark.
A large amount of standing room is also available in the 200-person capacity club to mingle with friends or business associates.
The Strike Zone features a pool table, 10 plasma televisions, a dedicated sound system, a chef preparing gourmet sandwiches and a full-service bar and cocktail staff. D-backs fans also have a front-row seat to watch the pre-game and post-game Fox Sports Arizona broadcast.
Tickets in the Coors Light Strike Zone are $20 each and include $5 in D-bucks. A minimum of 30 tickets must be purchased.
If you have any questions about the Coors Light Strike Zone, please contact the Group Sales Department at 602.462.4600 or This email address is being protected from spambots. You need JavaScript enabled to view it..
Audi Quattro Lounge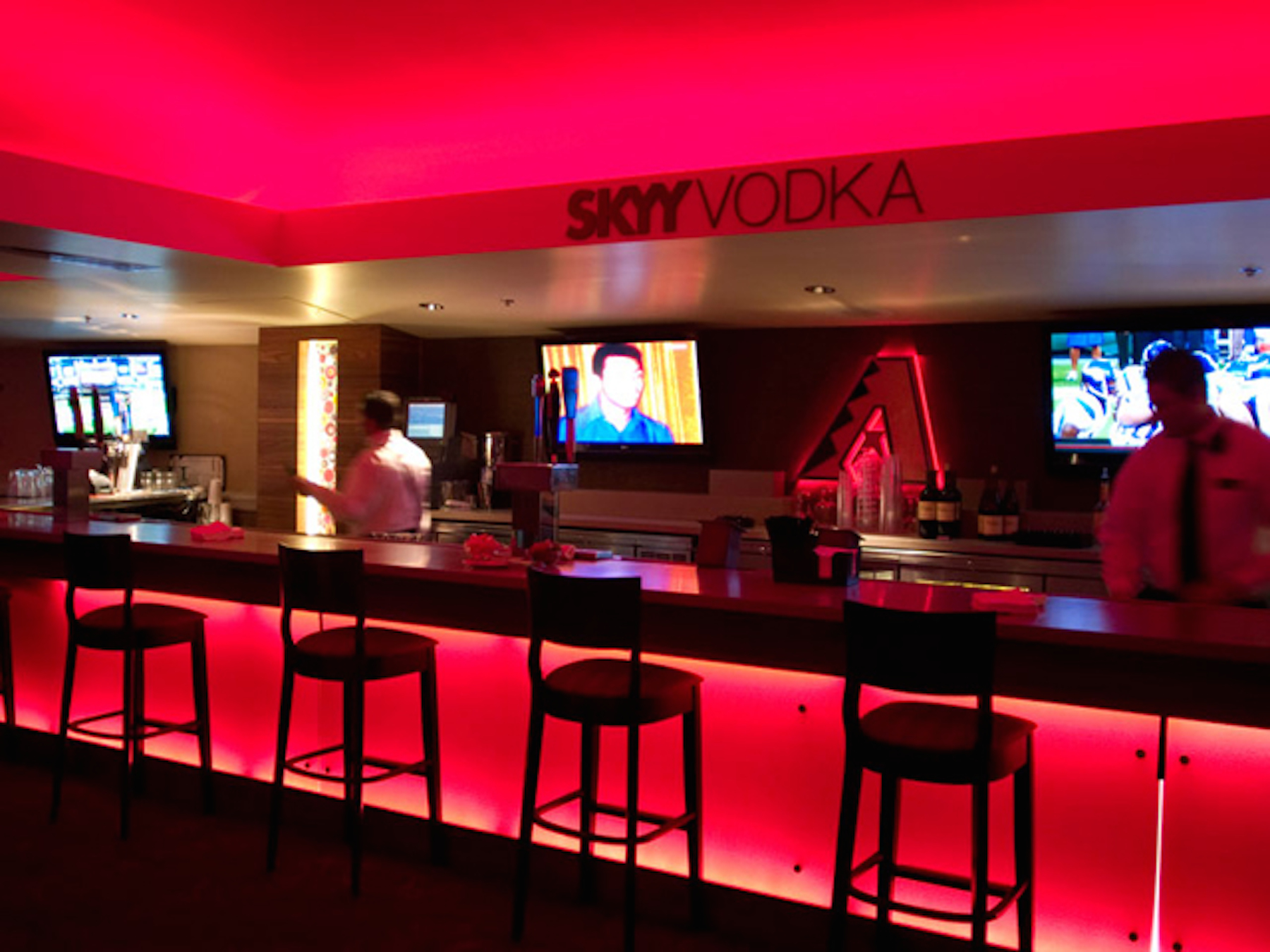 Located behind home plate under the seating area, the Audi Quattro Lounge is an exclusive, upscale dining and bar experience.
Because it is on the Field Level of Chase Field, it is only accessible to those guests with a ticket in the Clubhouse Box or 1st/3rd Base Box sections.
The Audi Quattro Lounge offers fans a chef table with a variety of items from delicious Sesame Crusted Salmon to Spicy Scallop and Calamari martinis, or choose our individual parmesan tarts with Caesar salad and parmesan cheese.
The Audi Quattro Lounge menu varies each home stand and also includes an Ala Carte menu of Roast Beef Grinders with Swiss cheese and caramelized onions, BBQ Pulled Pork Sandwich, Oaxacan Turkey Wrap of shredded ancho chili glazed turkey breast, Roasted Turkey Chef Salad or Penne con Scampi and Prosciutto Pasta.
Batters Box Suite
Located directly behind home plate and at the playing surface level is perhaps the most unique experience at Chase Field.
The Batter's Box Suite puts you closer to the action than you ever could have imagined. You are literally looking at the game from the point of view of the catcher and home plate umpire.
Seats this good can't be experienced alone which is why the Arizona Diamondbacks provide you with 20 tickets so you can bring all of your friends making you the most popular person on the planet.
With each paid Diamondbacks Batter's Box Suite reservation you will enjoy the following:
All-inclusive in-seat food and beverage
Access to the exclusive Audi Quattro Lounge
Special in-game group recognition
Exclusive concierge and suite services
Five VIP parking passes
Postseason priority
Be sure to bring your camera because you are never going to be able to express how great these seats really are. This is one of those times when a picture truly is worth 1,000 words.
Dugout Suites
Located adjacent to the home and visitor benches, the Dugout Suites make you feel like part of the team. As players run out to the field or in to the dugout you will be right there waiting with a high-five or words of encouragement.
The Dugout Suites give you an unparalleled view of the playing field with seats so close you might actually hear the manager yelling to you to warm up because you are going into the game.
Seats in the Dugout Suites include flat-panel televisions so you don't have to worry about missing any of the action.
Because you will want to share this experience with others, you receive 14 game tickets to the suite so the whole gang can feel like they are part of the action.
With each paid Dugout Suite reservation you will enjoy the following:
All-inclusive in-seat food and beverage
Premium parking inside the Chase Field garage
Special in-game group recognition
Exclusive concierge and suite services
A Dugout Suite is as close as you are likely to get to being on the bench with the players and coaches of your favorite team.
Insight Diamond Level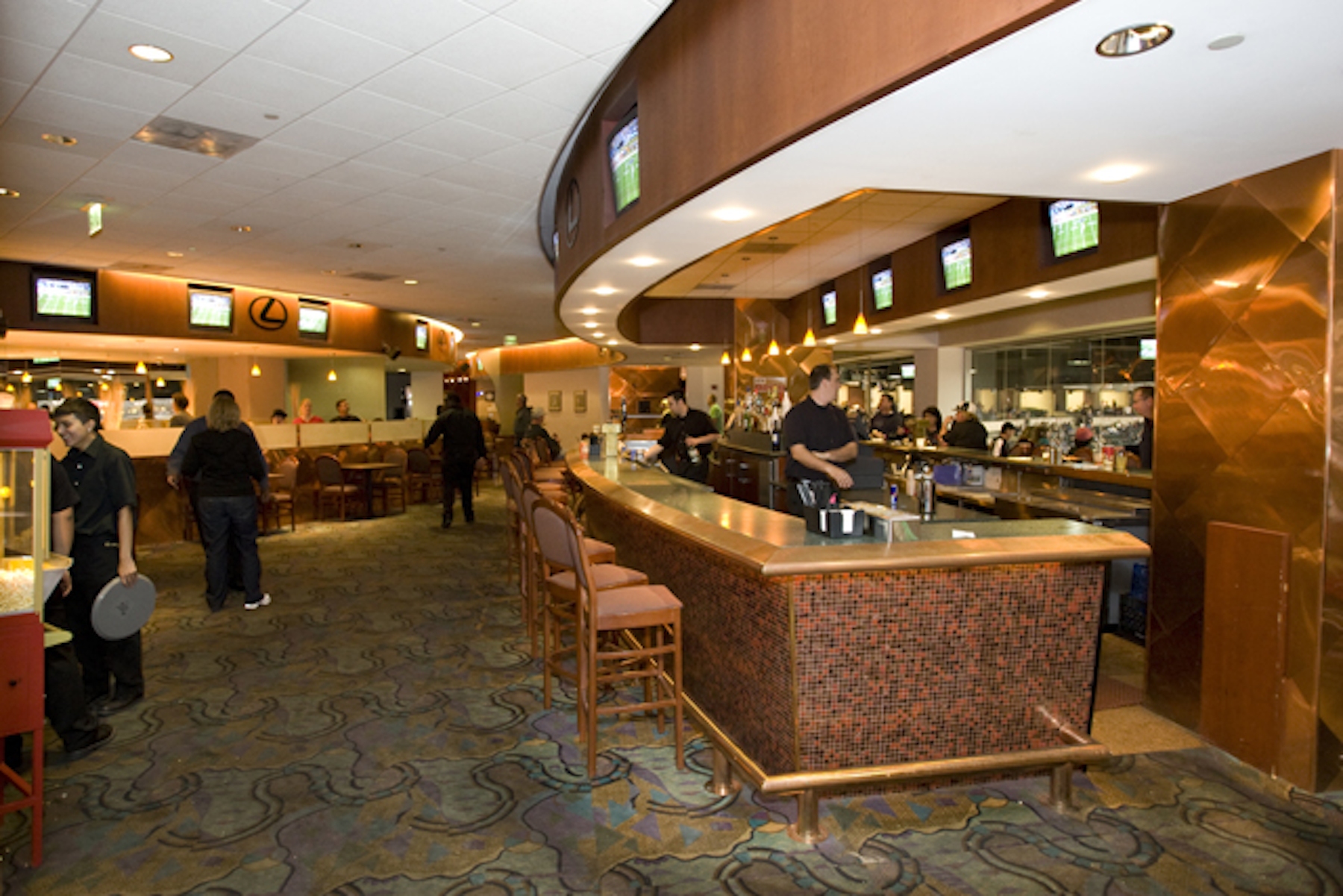 If you haven't watched a D-backs game from your own private suite, then you're missing out on one of the best seats in the house. Located on the Diamond Level, Chase Field offers a variety of suites designed to fit your group's needs. All suites feature:
Private lounge area with comfortable seating
Mahogany wet bar with refrigerator and ice maker
Individually controlled air-conditioning
Outdoor balcony with extra-wide padded stadium seats
The Diamond Level also features Party Suites for up to 50 guests, the new All-You-Can-Eat Suites, which include a food and beverage package and the D-backs' exclusive Gonzo Suite, #20, in recognition of Luis Gonzalez and his career with the D-backs.
For more information on the Diamond Level please contact the Arizona Diamondbacks Suite Sales Department at 602-462-4600 or This email address is being protected from spambots. You need JavaScript enabled to view it..
APS Solar Pavilion
If you have ever been in Phoenix Arizona in the middle of summer you will quickly understand the need for shade and the desire to be cooled off.
The Arizona Diamondbacks recognized that fact and worked with local vendors to develop the APS Solar Pavilion to keep the fans cool while doing something incredible for the planet.
Located on the Chase Field Plaza in front of the stadium the APS Solar Pavilion consists of the following details:
Dedicated on April 28, 2011.
Partnership between D-backs, Maricopa County Stadium District & APS.
Solar shade structure covers 17,280 square feet.
Solar panels will generate 75 kilowatts of solar power, enough electricity for about 8-10 homes
20-year life span.
APS plans to use the solar facility as a technical demonstration project and will use the panels to store energy in batteries and charge electric vehicles directly from the sun.
Also features educational exhibits showcasing elements of sustainable living such as renewable energy, energy efficiency, electric vehicles and recycling.
Architect: HKS Inc.
General Contractor: Renewable Energy Contractors, a division of Ironco.
So the next time you feel like you might be overheating waiting for the gates to Chase Field to open, stop by the APS Solar Pavilion to cool off and marvel at the engineering this simple area has created.
RAMTRUCKS.COM Pool
One of the most amazing features of Chase Field is the swimming pool located beyond the right-centerfield wall. Yes, you read that right, there is a swimming pool inside the stadium. Chase Field was the first Major League Baseball stadium to feature a pool. Not just a pool though, there is also a hot tub to relax and unwind after watching a rather tense at bat.
The pool has a capacity of 8,500 gallons of water surrounded by 1,288 square feet of pool decking. The pool/spa has an area of 460 square feet making it comfortable for up to 35 guests.
Water safety is a prime concern whenever fans or children are around water so the pool includes a lifeguard staff to keep you safe.
Once the game starts you might find yourself in the middle of the action. There have been multiple "Pool Shots" hit in the history of Chase Field. Who knows, maybe you will find yourself diving in for a ball that has reached "splash down".
Besides having one of the most unique vantage points for the game, you can also have your pool experience catered so you never have to leave the pool area.
The pool can be rented per game similar to any other Chase Field suite. More information can be found at the Diamondbacks web site at dbacks.com/suites.
Chase Field
has always been designed to be a baseball specific facility but that doesn't mean that only baseball events have been played there. Since its inaugural season Bank One Ballpark/Chase Field has seen its share of interesting and historic sporting and non-sporting events. Below are a list of a few of the more notable:
2011 Major League Baseball All-Star Game.
Post-Game Concerts by Roger Clyne & The Peacemakers, Lifehouse, Trace Adkins, Jessica Simpson, Lonestar, Jo Dee Messina, SHeDAISY, The Wiggles, Smash Mouth, Banda El Recodo, MercyMe, Jeremy Camp and Switchfoot.
Evening On The Diamond with performances by Kenny Loggins (2007), George Benson (2008), Bill Cosby (2009), Jay Leno (2010), The Beach Boys (2011), Natalie Cole (2012) & Chicago (2013).
2006 World Baseball Classic Opening Round - Major League Baseball and International Baseball Federation... United States defeated Mexico, 2-0, in the first game played at Chase...other teams: Canada, South Africa.
2013 World Baseball Classic Opening Round - Major League Baseball and International Baseball Federation... participating teams: United States, Mexico, Canada, Italy.
"Challenge at Chase" between Arizona State University and University of Arizona baseball teams in 2006-07.
First-ever outdoor college basketball game on Dec. 27, 2000 between Arizona State University and University of Tennessee women's teams. The Sun Devils' women's team played at the stadium again on Dec. 18, 2006, though the game was cut short with over four minutes to go because rain began to fall through the opened roof.
Insight Bowl - College Football, 2000-2005.
Semper Fidelis All-American Bowl College Football on Jan. 3, 2012.
AMA Supercross
Monster Jam Series.
Rally for President George W. Bush in 2004.
Professional Bull Riders Built Ford Tough Series.
International soccer matches, including the Reto del Sol ("Challenge of the Sun") friendly match between the New York Red Bulls and Pumas UNAM on Feb. 23, 2012.
Shannon Briggs defeated Siarhei Liakhovich to win the World Boxing Organization Heavyweight Title on Nov. 4, 2006.
There's nothing quite like going to the ballpark. There is just something special about handing your ticket to a smiling usher and having him lead you towards the greenest grass you have ever seen.
The smell of freshly cut grass hovers in the stadium mixing with the aromas of cooking hot dogs and roasted peanuts. Those sights and smells take you back to your childhood where long summer days and cool evenings meant there were no cares in the world. You could leave your troubles behind and dream of a day when you would be playing baseball rubbing shoulders with some of the games greatest players.
For many of us those dreams evaporated as we grew older but are rekindled every time you walk through the turnstiles of a Major League Baseball stadium. Watching baseball at home with all of the high-tech gadgetry is great but it will never replace the experiences at the ballpark.
The Arizona Diamondbacks make it easy to love the game. Year in and year out this franchise is voted among the most fan-friendly and most affordable. Isn't it time you took in a ballgame at Chase Field to see what you have been missing?
Here you will find information on single-game tickets as well as season tickets to help you get your fix of baseball for the season.
| | |
| --- | --- |
| Season Tickets | Single Game Tickets |